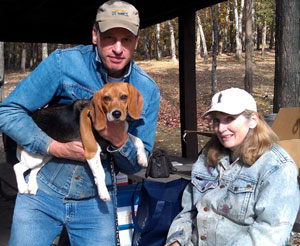 Artist Statement
My current paintings are a series called "Woodland Spirits". They reflect my interest in the woods around Ulster County and upstate New York in general. I have tried to look at nature in the way the original inhabitants (the Eastern Woodland Indians) looked at this special place; to try to absorb what I see and feel without letting preconceptions of what I should paint get in the way. Pictured are my fellow woodland travelers, my wife Susan and our ever-faithful beagle, Maggie.
—Tom Dinchuk
 Saturday, August 26-Thursday, August 31, 2017
Participating artist at Garden Holiday Art Show at Mohonk Mountain House
(Show Hours: 10am-6pm daily).